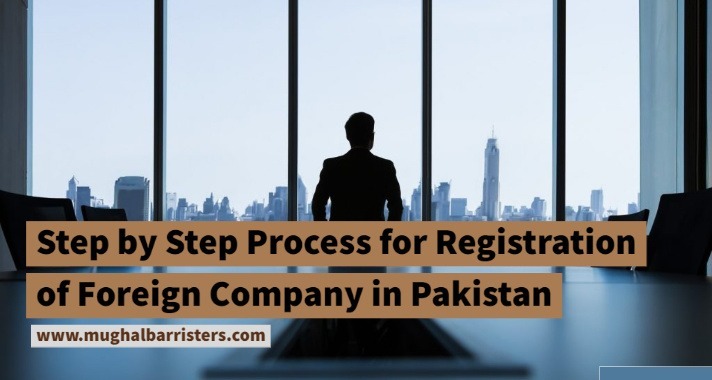 Step by Step Process for Registration of Foreign Company in Pakistan
A Wholly Owned Subsidiary is a type of company in which another company holds 100% shares. When foreign company make investment of 100% FDI(Foreign Direct Investment) in Pakistan, the company becomes a wholly owned subsidiary of that foreign company.
A Wholly Owned Subsidiary is a company whose entire share is held by foreign corporate bodies. It can be formed as a private, limited or limited liability company. Under the Pakistan Companies Ordinance 1984, it is recommended that the wholly owned subsidiary should be established as a private company.
Pakistan's (investment and corporate) laws permit wholly owned subsidiary with 100% foreign equity in all economy sectors including service and manufacturing  with all repatriation rights to capital and dividend remittable through commercial bank.
Foreign investors have also been provided legal protection against nationalization, expropriation and currency inconvertibility. The foreign investor would be entitled to fair compensation at prevailing market value.
Limited Liability Company has two categories:
Private limited company
Public limited company (listed or unlisted)
Private limited company:
Private company is required to have minimum 2 members and 2 directors. It may start its business immediately after its incorporation. Private company restrict the right to transfer it share through (AoA) Article of Association. It can also limit the number of its member to 50 and prohibits any invitation to the public to subscribe for its shares.
Single Member Company:
Single Member Company is a type of company with only one member who is the sole director of the company. All the shares belong to a single member. It is mandatory for a single member to nominate an individual as nominee director to act as director in case of his death, and an alternate nominee director who will act as nominee director in case of non-availability of nominee director.
Public limited company:
A public unlisted company is required to have minimum 3 members and 3 directors. It cannot start its business unless it obtains "certificate of commencement of Business" from the registrar of companies (SECP) Security Exchange commission of Pakistan. There is no restriction for transfer of shares and maximum numbers of members. A public company has option to list his shares at PSX (Pakistan Stock Exchange). Its minimum capital should be Rs. 200 Million and it is also required to make a public offer of its shares which must be subscribed by minimum 500 applicants.
Step 1: Obtain Permission from Board of Investment
A foreign company is required to obtain a permission letter from Board of Investment, Government of Pakistan with a specific validity period for opening and maintaining business in Pakistan. Copy of permission letter is required to be attached with documents meant for registration.
Step 2:  Seek Availability of Company Name
A foreign company is required to seek "Availability of Name" of proposed company from SECP. The name should not be:
Inappropriate
Identical or having close resemblance with existing companies
Designed to exploit the religious susceptibility of the people
Suggesting connection with any government and its organization or any international organization
Step 3: Documentation
A foreign company is required to file following Document within thirty days of establishing a place of business in Pakistan (Section 450 to 458 of the companies ordinance 1984) to the registrar concerned.
Form (38-43) as prescribed under the Rules:
Form 38: Certified copy of the charter, Memorandum and Articles of the company
The certificate is to be given by:
The public officer in the country where the company is incorporated
The notary public of the country where the company is incorporated, or
An Affidavit of responsible officer of company in the country where the company is incorporated
The first two situations, Certificate is required to be authenticated by Pakistan diplomatic consular or consulate officer. While the third situation, an Affidavit shall be signed before a Pakistan diplomatic consular or consulate officer. [Rule 22 of companies (General Provision and Forms) Rules, 1985]
Form 39: Address of the registered office of the company
Form 40: Particulars of directors and Chief Executive of the company
Form 41: Particulars of Principal officer of the company
Form 42: Particulars of Person's resident in Pakistan who should be authorized to accept services on behalf of foreign company along with the certified copy of appointment order and authority letter from Board of Directors.
Form 43: Address of the principal place of business of foreign company in Pakistan (Section 451).
Authority letter in the name of authorized representative of foreign company.
Fee Challan to be filed to (SECP), Every Company formed or incorporated outside Pakistan which has established business place in Pakistan and delivers the aforesaid documents shall be assigned a Corporate Universal Identification Number (CUIN) and be issued a certificate of registration of documents.
Contractual Capacity and Right to Invest:
Registration with SECP, the entity becomes eligible for entering into contracts or arrangements with resident or non-resident entities or individuals. The right to invest is a right of a limited liability company within or outside Pakistan.
Commencement of Business:
Certificate of Incorporation issued by the Registrar of Companies is a proof of establishment of the entity in Pakistan.
Exit Mechanism:
Exit mechanisms for foreign investors are like, transfer or selling of shares/ winding-up of the company. These are requirements under the Companies Ordinance, 1984 and taxation laws. The eligibility to repatriate proceeds under FERA is established, upon completion of the requirements of the relevant mechanism.